Today I want to give you an excerpt from my new book, High-Profit Prospecting.  Consider the below strategic questions as you look at your own prospecting process:
1. What about my prospecting process is compelling to the customer?
When I say "compelling," I am talking about the customer's willingness to engage and share with you what they truly want. Prospects won't do that unless they find you and your process compelling and full of potential to help them meet their needs.
2. Does my prospecting process result in the customer having false expectations about what I sell, and thus force me to spend time later in the selling process reshaping them?
Nothing can suck more profit out of a company than having customers demanding something they feel they deserve based on comments by a salesperson.
3. Is my prospecting process effective enough to help reduce the amount of time I spend negotiating with customers?
The better we prospect with regard to finding and validating great potential customers, the less negotiating we will have to do to close a sale.
4. Is my prospecting process focused more on sharing with the customer what I have to offer or is it more about uncovering information about the customer?
Prospecting processes that do not put learning about the customer first are only going to result in a high level of "no" answers from customers. There is no way you can be successful with your prospecting if you're chasing leads that don't have potential.
5. Is my prospecting process segmented enough to allow me to uncover customer needs faster from different types of prospects than if I used the same process for everyone?
Not all prospects are the same. They may have the same buying profile, but their communication needs may be polar opposites. The more you can tailor how you prospect, the greater the number of customers you will close.
6. How does the customer see me and how I can help them?
The number and different types of questions prospects ask you during the selling process is going to help you understand how they see you and what you sell.
7. How long does it take for a lead or prospect to have confidence in me?
Prospecting is all about building confidence. The sooner the customer has confidence in you, the more you'll be able to accurately uncover their needs.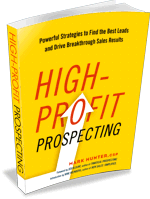 For more on prospecting, be sure to check out my new book High-Profit Prospecting.
Copyright 2016, Mark Hunter "The Sales Hunter." Sales Motivation Blog. Mark Hunter is the author of High-Profit Selling: Win the Sale Without Compromising on Price and High-Profit Prospecting: Powerful Strategies to Find the Best Leads and Drive Breakthrough Sales Results.