The best way to end the day?  On a positive note.  Sounds good, right?
It is good! And not as hard as you may think.  In the below video I tell you exactly how to do it.  Follow this one routine and you will see increasing success in sales and in life!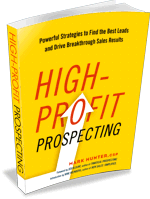 Copyright 2017, Mark Hunter "The Sales Hunter." Sales Motivation Blog. Mark Hunter is the author of High-Profit Prospecting: Powerful Strategies to Find the Best Leads and Drive Breakthrough Sales Results.