I'm not talking about a righteous pride.  I am talking about a deep sense of feeling good about how you help others.
You have an impact.  Do you grasp the difference it makes?  I want to challenge you this week to be proud of the impact you have.
Check out the video to see what I mean: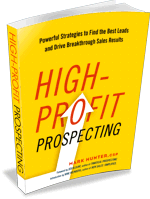 Copyright 2017, Mark Hunter "The Sales Hunter." Sales Motivation Blog. Mark Hunter is the author of High-Profit Prospecting: Powerful Strategies to Find the Best Leads and Drive Breakthrough Sales Results.