I challenge you to achieve more by doing less.  When you focus on doing a few things extremely well, you will realize much more success than allocating your time and resources toward too many goals.
Do you have to be incredibly disciplined to achieve more by doing less? Absolutely! You have to say "no" way more than you say "yes."  But the outcome is one you won't regret!
Check out the video to see what I mean: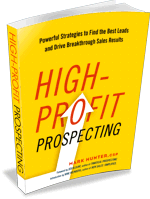 Copyright 2017, Mark Hunter "The Sales Hunter." Sales Motivation Blog. Mark Hunter is the author of High-Profit Selling: Win the Sale Without Compromising on Price and High-Profit Prospecting: Powerful Strategies to Find the Best Leads and Drive Breakthrough Sales Results.