What's the best way to follow up with a prospect?
For starters, begin the next conversation (regardless of what form it might be — email, phone, etc.) by repeating or asking about something the prospect shared with you the last time you talked.
When we start the next conversation by restating what the prospect shared with you earlier, it immediately tells them you value their opinion. It says you listened to them and, more importantly, you want to follow up with them.
Few things will establish trust faster than you doing this one simple thing.
Not only is repeating something they shared with you or asking a question about what they said earlier easy, but it is also what you're supposed to be doing if you're in sales.
Sales is about helping the customer with their issues, and there's no way we'll know what they are unless we listen to them. By building on what they shared with you earlier, you'll be able to go even deeper with them the next time you speak with them.
Watch this 65 second video to see what I mean:
This isn't just about following up with the prospect; it's about following through with them by being able to make a significant impact.
When you follow through by connecting conversations, you'll find yourself closing sales faster, which in turn brings value faster to your customers.
For you the benefit is significant, as it will allow you to use your time more efficiently, increasing your ability to increase your income.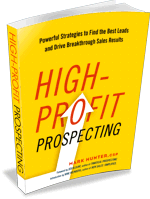 Copyright 2017, Mark Hunter "The Sales Hunter." Sales Motivation Blog. Mark Hunter is the author of High-Profit Prospecting: Powerful Strategies to Find the Best Leads and Drive Breakthrough Sales Results.