Email is absolutely one of the important pieces of prospecting. 
Of course, it's an easy way to "reach" people. But achieving engagement and eventually closing sales is much more complex than just sending a message.
Before moving forward with another email destined to be deleted, let's set some ground rules for success.
Video – Ground Rules for Prospecting with Email
1.
Email alone is not enough. 
Too many people craft their whole prospecting strategy around email. For example, email is 95% of what they do. However, email alone is not going to fill your pipeline. It's a critical piece, but not everything.
2.
You must have a strategy.
Strategy is not: "I'm going to email more." 
What is your endgame? Where are you trying to go? Who are you trying to prospect? Really think through what your strategy is. 
Spray and pray is not a strategy. Take some time to analyze the goals of your emails before you send them.
This month's Masterclass: Email Prospecting goes into great detail about creating a strategy for your emails. Today is the last day to enroll! Click here for more info.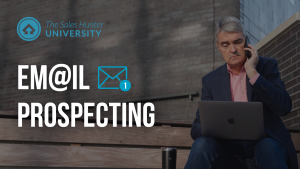 3.
Your emails are not about you.
Self-centered messages are the emails you send to your mother. 
Your prospecting emails are not about you. If the customer wants to find out about you, they can go out to the website. 
Instead, you want to provide them with information that's going to get them thinking and want to engage with you.
4.
Quality beats quantity. 
In the world of email prospecting, I hear people say, "Well, I'm going to send out 10,000 emails every week. That is certainly going to create some interest." 
In truth, it's going to create a lot of spam. 
Ultimately, what's going to happen is that your email provider, or whatever tool you're using, is going to wind up getting blocked. 
I say quality will always trump quantity. 
Of course, email prospecting is a numbers game, and your response rate is going to be low. Nevertheless, you better have quality to back up any number of sent emails.
5.
Subject line and the first sentence are absolutely critical. 
These are the most important parts. You could argue that the Call to Action (CTA) is the most important. However, if the subject line or the first sentence don't pull people in, they'll never see the CTA. 
That subject line has to be engaging to them. Next, the first sentence has to be something of interest to them.
Don't make these lines about you.  That means lines such as: "Hey, I know you're busy….you probably haven't seen this," aren't a great idea.
In fact, when people get those kinds of emails, they delete them.They simply get rid of them because they know it's a salesperson, and a bad one at that, because they don't have anything better to share.
6.
The KISS principle applies.
Keep it simple, stupid. Think about when you're driving down a highway, the signs are simple. Google Maps, it's simple. When you turn on Siri or whatever else, it's simple. Make your messaging clear, and your format easy to comprehend.
7.
Have a clear CTA, the call to action. 
What is the CTA? Please don't say, "Well, go check out my website," or, "Go download this," or, "Go do this," and have six different links in there. 
Include one call to action. That call to action should be to engage with you. This is the number one call to action that you should have in a prospecting email, because you want them to call you.
Now if they want to check you out, they can go to your website. Rather, I want them to call me. 
8.
Create interest in the next step. 
Do not give them so much information to allow them to make a decision right away. Ultimately, that decision might be that they don't need to work with you. Not ideal, right?
You want to create enough interest in the next step so that they engage with you.
Now you may create a little bit of interest in this first email, and then it may be a second, third, or fourth. It may be multiple emails, multiple phone calls, before they actually engage with you; especially if you're in an educational mode versus conversion. 
You have to understand: are you asking the customer to convert, to switch, or are you having to educate them? Knowing this makes a big difference in terms of how you build out your emails.
9.
Do not draw conclusions from a few responses. 
People send out 20 emails and they say, "Well, I didn't get a response. So that email must not work." I don't think 20 emails is going to be enough to draw any conclusions. 
You see, the statistical numbers are working against you. You have to get into the hundreds of emails before you can even begin to think that you have the ability to draw a response.
So yes, it's quality versus quantity, but you still have to get to that threshold number so you can have something to evaluate.
10.
Your emails reflect you.
Remember, when you engage with the prospect, they're going to be talking with you.  Your email had better reflect a professional. Don't add comments or thoughts that are going to have you be seen as the weird aunt or the crazy uncle. It just doesn't work.
You're ready to craft emails with confidence! Check back next week for
Part IV
of my Email Prospecting series. 
Did you miss Part I: 10-Step Checklist for Prospecting Emails? Find it here. 
What about Part II: Email Phrases You SHOULD Use? Find it here.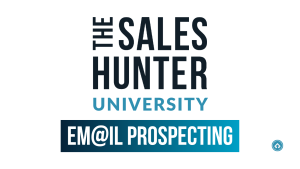 Tomorrow is the LAST DAY to enroll in my Email Prospecting Masterclass. Stop procrastinating, stop doubting, and invest in yourself today! At $59, this course adds incredible value to your sales skill set. 
This 4-part blog series is just a sneak peak into what kind of content is offered in this course. 
Give your SENT folder some meaning. It's time to upgrade your emailing skills!


Are you looking to level up? Become a member of The Sales Hunter University. 
When you choose the 'All Access' annual pass, you get your hands on not only this Masterclass, but all of my previous Masterclass offerings. 
What's more, your 'All Access' membership means we can meet face-to-face in open office hours each month. 
Additional benefits of 'All Access' membership include:
Monthly group coaching sessions

An exclusive library of sales videos and files

24/7 access to The Sales Hunter Community Group

Encouragement and motivation via a Weekly Sales Kickoff video message
Take advantage of these great opportunities, and enroll in this Email Prospecting Masterclass today. You just can't miss it!