Who do you listen to and what do you learn from them?
Recently I sat with an estimated 40,000 other people listening to 86-year-old Warren Buffett and 93-year-old Charlie Munger answer questions for 5 hours. The event was the annual shareholder meeting of Berkshire Hathaway, held each year on the first weekend in May in Omaha, Nebraska.
Each year the questions are on a wide number of subjects, some related to businesses Berkshire Hathaway has stake in. One question was about what Warren felt would be the impact on the railroad they own (BNSF) due to driverless trucks.
Warren said yes, it could have some impact on railroad freight, but there were other factors to consider. First thing he mentioned is if driverless trucks become the norm, then we could also see driverless trains. He expanded and said that would have minimal impact on earnings due to labor being a small factor with railroads.
His next comment was about how driverless trucks could impact their automobile insurance business (GEICO) and if accidents go down, there's less need for auto insurance. He continued to say how that could have a larger impact because the earnings from insurance, along with the "float," are what provide the fuel for his investments.
The response by Warren was classic. He took a question and didn't just answer it, but took it through several other scenarios.  I immediately stopped and asked myself, "Do I do the same thing?"
We're asked a question and we respond to it and move on. We listen to someone and we move on.  We're always in a state of moving on with our learning, but never really taking the time to absorb and process. Warren Buffett in his wisdom takes a question and truly processes it.
I'm setting a goal for myself to process at a deeper level. I'll admit I'm not sure how that will occur, but the first step is taking the time to process mentally what I've just heard or read.
I'm guilty of reading quickly, grabbing a little nugget and moving on. I'm wondering if my race to grab a golden nugget is resulting in the gold bars being left behind.
If you have not ever experienced the Berkshire Hathaway event and you are a shareholder, mark your calendar for the first weekend in May and I'll see you here in Omaha.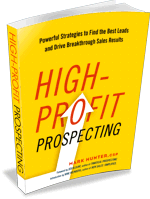 Copyright 2017, Mark Hunter "The Sales Hunter." Sales Motivation Blog. Mark Hunter is the author of High-Profit Prospecting: Powerful Strategies to Find the Best Leads and Drive Breakthrough Sales Results.