As you look ahead to 2017, consider these three tips for success (which are included in a new free eBook from Xactly):
TIP #1: Coach Toward Shared Learning
At the end of each day, ask your salespeople to share with everyone on the team the big thing they learned that day. Also have them share their big goal for the next day. Having each person share creates accountability and allows for peer learning and motivation.
TIP #2: Use Awards to Inspire Salespeople
Create a "Salesperson of the Week" award, preferably with a very ugly trophy (to keep the presentation fun!). Each week the sales team votes on who deserves the award based on the results from the previous week and the help the winner gave to others. When the person receives the award, they share one tip that will help the rest of the team sell better. The award is a fun way to create a supportive culture and, at the same time, inspire people to learn from one another.
TIP #3: Build a Reserve of GREAT Questions
Ask each salesperson to build a list of great questions they've asked customers. The objective is for each person to have a robust set of questions they can then share with others. This process allows people to see the value of questions and, at the same time, learn from each other.
For more great tips, get the free eBook on inspiring great performance from Xactly.  You can get the eBook at this link!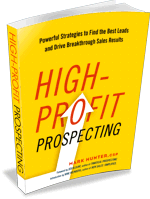 Copyright 2016, Mark Hunter "The Sales Hunter." Sales Motivation Blog. Mark Hunter is the author of High-Profit Selling: Win the Sale Without Compromising on Price and High-Profit Prospecting: Powerful Strategies to Find the Best Leads and Drive Breakthrough Sales Results.