It's the start of the new year and everyone has a tendency to think this is the year they'll achieve more than ever.   I'm no different. I find myself thinking the same way too.
This year I'm pushing myself to say "no" to more than I say "yes" to.
My feeling is it's too easy to be average. In fact, I think we become average when we try to chase too much and then we compromise in our mind about how "we can't get it all done" and we begin to accept average.
Leadership is not about being average. It's about blowing past average.
There is no way we can blow past average in everything we want to do. It just isn't going to happen no matter how hard we push ourselves.  I'm finding the answer is in saying "no" more often, which allows time to focus on the really important stuff.
This really hits home with me as I look at the goals I had set for last year and some of the things I didn't accomplish. One of them was to get back into podcasting.  It simply didn't happen last year and as part of my "no" campaign, I don't have it on this year's goals.
I may start podcasting again some time, but I'm not going to do it at the expense of not achieving my other goals in a superior manner.
What do you need to say "no" to?  How will you use the time it frees up to be more successful?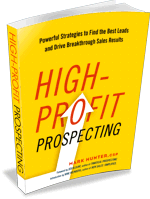 Copyright 2017, Mark Hunter "The Sales Hunter." Sales Motivation Blog. Mark Hunter is the author of High-Profit Selling: Win the Sale Without Compromising on Price and High-Profit Prospecting: Powerful Strategies to Find the Best Leads and Drive Breakthrough Sales Results.