Although you might think this only applies to salespeople, it applies just as much to leaders.
We've all seen leaders trying to "sell" a team as to why a bad decision is a good one. It's no different than the salesperson who is selling hard a solution the customer doesn't want.
We wonder why salespeople get rejected. It's because they failed to understand the customer. Look at the leader and it's no different. The leader failed because they failed to understand the people they're leading.
I'm not advocating that as a leader you can't make a group do what they don't want to do. The job of a leader is to get the group to achieve an outcome they didn't think they could achieve, which many times runs counter to their initial thoughts.
The same is true with the salesperson — the customer often has little clue what they're looking for and it's the salesperson's job to help them see it. The goal of the salesperson is no different than the leader — to help their customer see and achieve something they didn't think was possible.
The solution for both the salesperson and the leader is to not be selling, but to be listening and understanding the perspective of the other party.  Only when we first understand where the other party is coming from can we begin to help them see where they need to go.
For both the salesperson and the leader, the solution lies not with what you know, but with what the other party chooses to believe.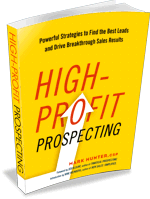 Copyright 2016, Mark Hunter "The Sales Hunter." Sales Motivation Blog. Mark Hunter is the author of High-Profit Selling: Win the Sale Without Compromising on Price and High-Profit Prospecting: Powerful Strategies to Find the Best Leads and Drive Breakthrough Sales Results.