You read that right.
I firmly believe leaders need a big ego. In fact, they need a massive ego!  If they want their team to achieve its full potential, the bigger the ego the leader has, the higher the level of outcome the team will be able to achieve.
Watch this 67-second video where I get passionate about this subject:
Those of you reading this who know me are probably perplexed by my belief ego is a trait leaders should have. Reason I believe it is because I believe ego is an acronym for Empowering Greater Outcomes.  Think about this… regardless of your role, your duty is to help others succeed.
As a leader, whether in business, community, sales or our family, the goal is the same. We must be continually striving to empower others by helping them achieve more. I'm sure you can think of a leader you've had in the past you respect. Chances are you respect them because they were committed to E.G.O.
Make it your goal not just today but every day, regardless of your title or role, to be empowering a greater outcome in others.
This should not be an optional task, but rather a fundamental. Just as you've had others who empowered you, so too should you be doing the same.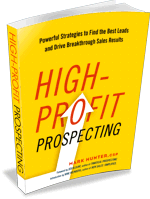 Copyright 2017, Mark Hunter "The Sales Hunter." Sales Motivation Blog. Mark Hunter is the author of High-Profit Prospecting: Powerful Strategies to Find the Best Leads and Drive Breakthrough Sales Results.