It's a new year and do you know what I want you to forget? Anything negative!
Yes, make this a year of positivity. Write down 5 things that went well in 2016 and commit to flying past that success in 2017!
Check out the video to see what I mean: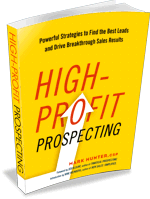 Copyright 2017, Mark Hunter "The Sales Hunter." Sales Motivation Blog. Mark Hunter is the author of High-Profit Selling: Win the Sale Without Compromising on Price and High-Profit Prospecting: Powerful Strategies to Find the Best Leads and Drive Breakthrough Sales Results.