Have you ever noticed how much more energy you have when you're around others?   Are you one who when working out in a gym or out for a run with others find yourself running faster?
It's pretty basic, but we all tend to perform better when we're around others (as long as those other people are positive, of course!)
Prospecting can be very difficult and can be even harder when you're doing it in isolation.
As a sales leader, your job is to make this critical activity be one that is done as a team. I say "team" not to allow some to slack off, but rather to equip everyone to motivate each other.
When we see somebody else doing something, it's amazing how we will soon be doing the same.  One of the easiest things you can do is to have prospecting days where the focus of the entire team, including you, for that day is only prospecting.  It's not thinking about prospecting or talking about prospecting, but rather it is actually doing it!
Take the idea of a prospecting day and turn it into a prospecting time each day or whatever it is you feel will allow the team to excel.
Your job is to help them excel, and never forget a key way to do it is by allowing them to see you prospecting too.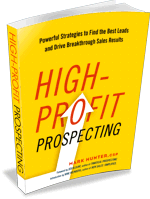 Be sure to check out my new book High-Profit Prospecting. It's full of the strategies you need for you and your team to be successful.
Copyright 2016, Mark Hunter "The Sales Hunter." Sales Motivation Blog. Mark Hunter is the author of High-Profit Selling: Win the Sale Without Compromising on Price and High-Profit Prospecting: Powerful Strategies to Find the Best Leads and Drive Breakthrough Sales Results.