When was the last time you did a deep dive and compared the types of names you have at the top of your sales funnel and who you have coming out the bottom as a customer?
For the majority of salespeople, after the smoke has cleared, it's amazing how the two ends of the funnel don't look very much alike at all.
Check out this 36-second video where I go on a brief rant about this issue:
It's time to call out a simple reality. For too many salespeople, the top and bottom of the funnel aren't even connected. The customers that come out the bottom of the funnel do so more by chance than by some perfect process of determining what goes in at the top as a lead.
This results in a very real problem: Too little time is spent closing sales, because too much time is being spent chasing down bad leads.
Think about what your sales process would look like if you could increase your closing ratio by just 10 or 20%. I have a strong belief this can be attained faster by doing a better job of determining what leads to start with rather than by developing better closing skills. I see salespeople spending way too much time trying to nurture leads that are nothing more than a person with a heartbeat but no ability to ever buy.
What is the profile of your best customers?
What are the outcomes they receive when buying from you?
What are their characteristics?
Who are their customers?
We have to be going much deeper in understanding what type of lead we need to start with. Having leads just for the sake of having leads doesn't help anyone and winds up being a huge motivational drag if left unchecked.
Your focus needs to be on doing two things. First, narrow who you target is with regard to lead generation. Second, qualify the leads you have faster.
I've talked about this before, but I'm adamant — your most valuable asset is your time. You can't afford to spend it on leads or any other activity that simply is not going to produce revenue. When we qualify the lead fast we can close even faster.
Join me tomorrow as I conduct another 45-minute video session: Prospecting Using the Telephone
The big event you can't miss is the Virtual Sales Kickoff 2017 on Feb. 16. I'm pleased to be doing it again this year with good friends and fellow best-selling authors Jeb Blount, Mike Weinberg and Anthony Iannarino. The Virtual Sales Kickoff 2017 is bound to boost your momentum and success in 2017, as it is full of tips you can start using immediately. Even if you can't make it live, sign up and you will get the download.
Copyright 2017, Mark Hunter "The Sales Hunter." Sales Motivation Blog. Mark Hunter is the author of High-Profit Prospecting: Powerful Strategies to Find the Best Leads and Drive Breakthrough Sales Results.
Mark Hunter, your next keynote speaker:
Mark Hunter, CSP, "The Sales Hunter" is recognized globally as one of the top sales speakers, known for his challenging insights, high-energy, and passion to create change that he delivers each time he speaks, whether it be a sales kick-off meeting, corporate function or association event. Mark Hunter is the author of the best selling book, High-Profit Prospecting. Here's what others are saying:
Mark presented "Accelerate Your Sales Prospecting" at the February 2015 Institute for Excellence in Sales program in Northern Virginia. He nailed it and gave the 150 selling professionals and business owners in attendance amazing tips, strategies and tactics they could implement that day. The sales leaders at our program universally acknowledged Mark as one of the top speakers we've ever had.
Fred Diamond, Executive Director, IES Washington DC
At our annual company sales meeting we' ve never seen a speaker work so hard, with advance preparation, with such genuine style of delivery, and with such hunger for results. If you weren't on the edge of your seat….you were in a coma. Period!
Mark Allen, Regional Manager, Marlin Companies
Mark's strategies are innovative, easy to follow and easy to use in the "real world." He customized his strategies to directly speak to the issues and challenges facing our unique business, and he helped us encompass specific selling examples. This training was very applicable to our sales staff, both at a senior and junior level, as it reinforced important sales techniques."
Danielle Pakradooni, Blue Man Group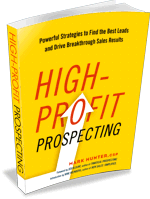 Copyright 2017, Mark Hunter "The Sales Hunter." Sales Motivation Blog. Mark Hunter is the author of High-Profit Prospecting: Powerful Strategies to Find the Best Leads and Drive Breakthrough Sales Results.